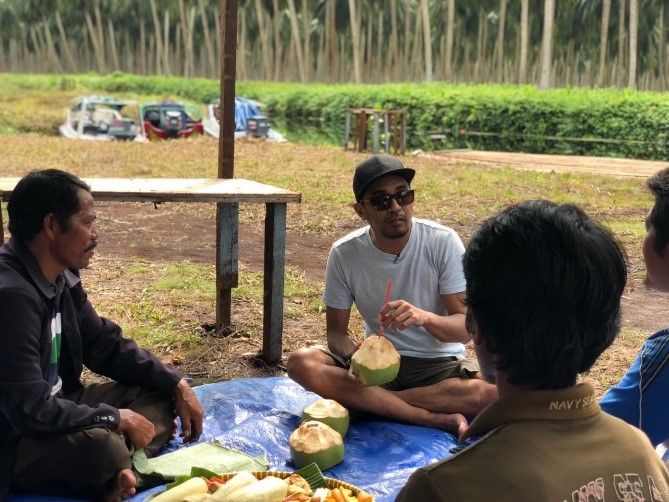 Tanda Mata Concert on September 30th, 2018 has opened opportunities for collaboration across ecosystems. Glenn Fredly as the initiator of the Tanda Mata concert supports KARA in preserving Indonesia's coconut ecosystem. In fact, Glenn Fredly has showed his support for KARA by visiting PT Riau Sakti United Plantations (PT RSUP) in Riau, which is one of KARA's factory locations. During this visit, Glenn Fredly conducted dialogues with farmers around the industry, observed the surrounding environment, and visited local clinics and schools.
During the dialogue, the local coconut farmers said that the keys of success for coconut farmers are persistency and hard work. The presence of PT RSUP as a coconut processing industry that takes in coconut supplies from coconut farmers has been giving direct impacts not only to the local farmers, but also to the societies. Through infrastructures development such as public road, healthcare center, and school constructions, Sambu Group through PT RSUP contributes to the betterment of local communities.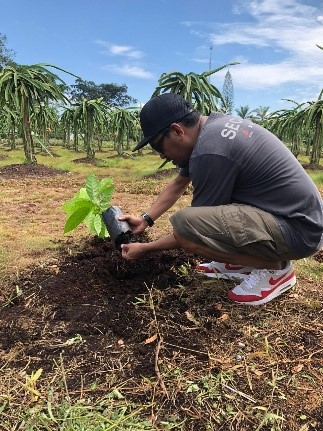 Moreover, coconut ecosystem has played a big role in the emergence of other ecosystems in PT RSUP area. Dragon fruit, corn, and watermelon are some of the crops that can be grown in this area by utilizing sub optimal land. KARA through Sambu Group has been working together with Badan Pengkajian dan Penerapan Teknologi (BPPT), an institution under the Ministry of Research, Technology and Higher Education of the Republic of Indonesia that focuses on scientific research, to develop pineapple waste as an organic fertilizer. This fertilizer called biopeat reduces soil acidity and improves productivity of sub optimal land. The utilization of sub optimal land to produce food crops is a potential solution for food security issues in Indonesia.
Glenn Fredly supports KARA's effort to maximize the utilization of sub optimal lands to improve Indonesia's food security and food self-sufficiency. During his visit, Glenn Fredly took the initiative to plant cocoa and srikaya tree.
Tanda Mata concert and Glenn Fredly's visit are the activities that begins the journey of tangible collaboration between KARA and Glenn Fredly. In the future, Glenn Fredly and KARA are expected to be able to work hand in hand to realize their common goals; to preserve Indonesian music and coconut ecosystem.(NPW)